Welcome to The IAM's Home of Knowledge!
You will find here an overview of the IAM's knowledge development and dissemination activities and hyperlinks to various sources of useful information as well as ways in which you can get involved in the IAM's knowledge activities.
---
The role of The IAM in Knowledge Development
As a Learned Society, The IAM develops the Asset Management discipline and knowledge base, with wider societal objectives to spread good practice and awareness. We exist to advance the discipline of asset management, not only for people and organizations involved in the acquisition, operation and care of physical assets, but also for the benefit of society and the general public.
---
IAM Discussion Forum
The IAM Discussion Forum enables members and non-members to engage on discussion topics that are of interest to the global asset management community.  It forms an important part of engaging our members and our wider asset management community in commenting on and generating knowledge.
Using this forum you can share views, offer support, or make a statement around a particular asset management topic.  We will be looking to use as much of this discussion as possible to support knowledge development.  Some discussion categories are open to the whole asset management community whilst others are restricted to IAM members. 
All the discussion categories have assigned moderators who will be ensuring the discussions are relevant.  If you would like to become a moderator for a discussion area, please get in touch
If you would like to recommend a new discussion topic, please raise it in the relevant discussion category.  If you don't think there is a relevant category, raise it under uncategorized and it will be assigned to a relevant category.
---
Introduction to Asset Management
You can find an introduction to the subject of Asset Management and access all IAM Knowledge Products and publications from the links below.
Knowledge Leadership Group
Knowledge Leadership Group (KLG) is a Standing Committee at IAM Centre, established to ensure that the IAM has a structured and strategic view of Knowledge needs and activities aligned to the IAM Strategic Plan.
The main responsibilities of KLG are:
recommend priorities and methodologies to IAM Faculty

produce Policy / Strategy & Plan for knowledge development but does not deliver projects

prescribe Peer Review process as appropriate for the knowledge product and undertake sample audits to ensure the review is being done properly. Make recommendations to Faculty for peer review improvements

does not manage the delivery of Projects but maintains an oversight, receives progress reports and can assist in resolving challenges.
KLG contains the following members:
Ursula Bryan (IAM CEO)

Mildred Chua Ulger (KLG Chair)

Madison White (KLG Deputy Chair)

Dr. Navil Shetty (IAM India)

Mark Knight (IAM USA)

Bernard Gaudreault (IAM Canada)

Steve Bird (SSG Program Manager)

Andreas Roth (IAM Germany)

Kate Yates (IAM UK & Patrons)

Rob Hicks (IAM Office)
The Knowledge Development Plan for 2023 can be seen by Clicking Here
Asset Management knowledge created and disseminated by IAM can take many forms:
• Formal IAM Publications, e.g. Asset Management Anatomy, SSGs, etc.
• IAM Position Papers prepared by the IAM Panel of Experts
• Short Articles, Green Papers, White Papers
• Assets Magazine
• Conference Papers
• Asset Management Wiki
• Case Studies
• Recorded Webinars
• Podcasts
• Blogs
• etc.

KLG collects requests for new knowledge from our members, Chapters, Patrons and other sources. Sometimes strategic knowledge needs are identified by the IAM Board or Faculty.
The process for the capture of knowledge from need to publication is illustrated schemematically in the figure below. 
According to ISO 55000, asset management is the coordinated activity of an organization to realize value from assets. What does that mean? Companies were managing their assets in varying ways long before the emergence of common practices. Today, many companies that don't have a structured asset management approach still accomplish asset management tasks in the course of the day.
The real question is whether your company is doing it in an ad hoc and reactive way or following an established structure that allows you to be proactive and optimize management of your asset portfolio aligned with what the organization wants to achieve, and the benefits that come with that.

Simply put, by taking a strategic, long-term approach and leveraging a consistent framework and formally incorporating those work activities into an asset management system, you can realize the full benefits of asset management.

Over time, through collaboration and thought leadership by both the GFMAM and IAM, early concepts of asset management were refined, classified into six primary topics and subdivided into 39 subject areas. These subject areas have been outlined in the GFMAM publication "The Asset Management Landscape" and the IAM publication "Asset Management — an anatomy."

Unfortunately, as pointed out by the IAM, there is no one-size-fits-all best practice in asset management. In truth, there is only good practice that is appropriate within the operating context and needs of any particular organization. What is good practice for one organization may not be good for another.

Strategic planning is an organization's process of defining its direction and making decisions about allocating its resources to pursue this strategy. In the basic stages of alignment and integration it is necessary to recognize and resolve conflicting cost, risk and performance objectives and make decisions about short-term versus long term impacts. Asset management has everything to do with strategy.

A multitude of topics are considered part of asset management. As noted earlier, it's very likely many of these topics are already being performed in some capacity by your organization. The IAM has organized the discipline of asset management into 39 Subjects, which are grouped into the six Subject Groups as detailed further in the Asset Management Landscape section below.

A proactive approach to asset management starts with recognizing the work you are already doing within the 39 areas and how to leverage that work.

Asset Management is "the coordinated activity of an organization to realize value from assets" but what are these value benefits we can expect from Asset Management? The traditional business case for asset management has typically focused on cost savings, through reduced operations and maintenance costs, along with improved productivity through increased reliability and availability. However, other benefits such as the improved management of data, competence development of people and better control of risks increase value realization in other areas.

Some of the benefits are far reaching across all areas of an organization; this is because asset management requires an integrated multi-disciplinary approach.

Asset management draws on and includes professionals from a range of disciplines (such business management, risk, finance, engineering, project management, maintenance and safety) working across the stages of the asset life cycle and at all levels of the asset portfolio to provide benefits such as:

• Improved financial performance
• Informed asset investment decisions
• Improved management of risk
• Improved services and outputs
• Demonstrated social responsibility
• Demonstrated compliance
• Enhanced reputation and stakeholder confidence
• Improved organizational sustainability
• Improved efficiency and effectiveness
• Improved agility to respond to rapid changes in the external environment
• Ability to adapt and respond to the impacts of climate change.
The IAM developed the Anatomy to provide an appreciation of asset management: what it is; what it can achieve; the scope of the discipline and a description of the underlying concepts and philosophy. It also describes the knowledge, skills and attitudes that support it.

As noted in Section 2 'What is Asset Management?' Asset management is more than doing things to assets - it is about using assets to deliver value and achieve the organization's business objectives. It also brings a different approach and way of thinking and a transformation of organizational alignment and culture.
As noted in Section 4 'Why does Asset Management matter?'

Effective management of value, risk and liability is also part of the standard business case. For many stakeholders, including senior executives, the case for asset management being a core activity to mitigate business risk, is established when a large proportion of the total assets on the balance sheet comprises property, plant and equipment.

The Anatomy covers the basic concepts, identifies the breadth of asset management activities - and demonstrates that this is a discipline worth exploring!
The Anatomy is available from the IAM to anyone with an interest in Asset Management and is currently available in five languages- download a copy and find out more here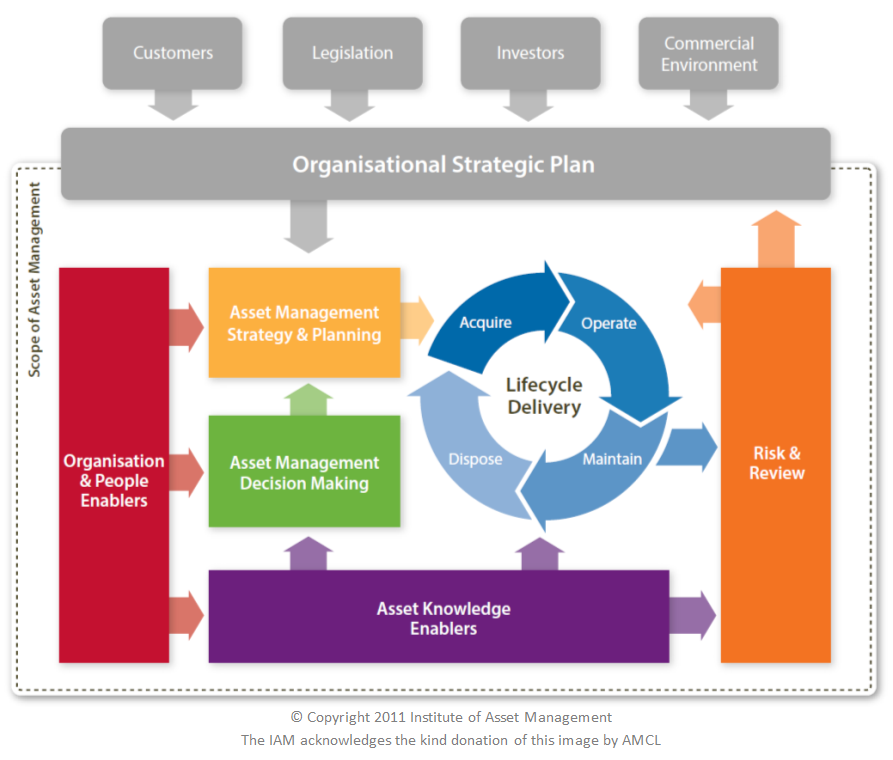 The Global Forum on Maintenance and Asset Management determined that there is benefit in aligning the various advances in asset management and collaborating to develop a collective view, in particular for organizations that operate asset management systems in many countries.

The Asset Management Landscape is a framework to enable asset management knowledge and practices to be compared, contrasted and aligned around a common understanding of the discipline of asset management.

The asset management subjects are part of the core to enable GFMAM members to be able to compare, contrast and align their knowledge and practices. These subjects are also intended to provide a common understanding of the scope of asset management.

The list of subjects has been derived from an international review of an extensive list of asset management models and assessment methodologies. This review identified 39 asset management subjects that together describe the scope of asset management and are aligned with the 39 areas in the Anatomy.
The IAM Big Picture is a visual tool for starting conversations about asset management within your organisation as well as with customers, suppliers and wider stakeholders.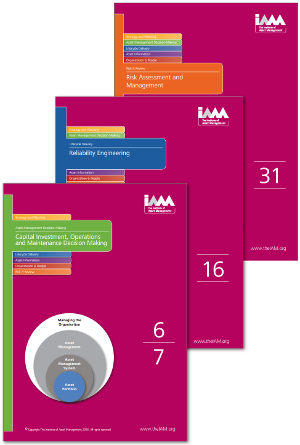 Subject Specific Guidelines
Overview
The Subject Specific Guidelines (SSGs) are part of a series of publications designed to expand and enrich asset management knowledge. Those published are available in the online shop.

The SSGs cover the 39 Subjects in Asset Management - an anatomy, and are also based on the asset management knowledge structure or 'matrix' from the Asset Management Landscape.

The SSGs are a core element within the IAM asset management knowledge base. Through peer review and IAM Expert Panel assessment, they fully align with the IAM's values of the development of excellence in asset management, and the provision of support to those seeking that success.

Each SSG document covers one or a group of subjects from the 39 Subjects, with broader subjects meriting their own SSG, and closely related subjects being grouped together in one SSG.

The publications are colour-coded according to the Group within which the Subjects appear.